Many restaurants come and go, but few have enjoyed the longevity of Ludington's Old Hamlin Restaurant. Originally located on Hamlin Lake, the current owners Chris and Marsha Papadakos have carried on the tradition begun by Chris' uncle nearly 80 years ago.
Back in 1915, Pete Koikas brought his love of cooking from Greece to the USA. He arrived in New York and worked for five years in the restaurant business.
He then sent for his wife Katherine and their two children Ted and Pauline, and they all moved to Chicago. They began their own restaurant within a few years, and with the help of their son Ted, they eventually owned eight restaurants in the Chicago area.
Desiring a more quiet life in the country, Pete moved the entire family, which now included Helen and Jenny, to Ludington, Michigan in the late 1930s. They began a restaurant at the Castlewood Motel at the South Bayou on Hamlin Lake, which is now Country Haven Resort. At the time, Ludington was becoming a busy port city, and Pete decided he could serve more customers if he was located downtown. In 1942, the move was made to the current location, and the restaurant became The Hamlin Café.
Greek people love to cook and eat good food, so it's not uncommon for many of them to own a restaurant. Of Katherine's four sisters, three moved to the area and were married to restaurateurs as well. Pete and Katherine brought their niece Toula, daughter of Stauvroula, the only sister still living in Greece, to Ludington in the late 1950s to learn the family business. Pete and Katherine had retired by now, and their son Ted and his wife Betty were running the restaurant. In 1967, Ted sold the Hamlin Café to Toula and her husband Stanley Lekkas, and her brother Tom Papadakos. That same year, two more brothers moved to Ludington–George and Chris Papadakos–and they also helped run the Hamlin Café.
Chris and wife Marsha Papadakos are the remaining family members of what is now known as the Old Hamlin Restaurant. They've expanded the business and have continued the tradition of good home cooking that their customers have expected and enjoyed for nearly 80 years.
We believe in good food at a fair price. We also pride ourselves on providing the sort of hearty portions that we would serve to our own family. When you come to the Old Hamlin Restaurant, you should come hungry. We like to provide plenty of great homemade food.
Some restaurants try to reinvent the wheel. That's fine for them but we prefer to focus on the time-tested classic dishes that we ourselves love to eat. Virtually all of our food is homemade and made with lots of love. We know the value of a high quality, home-cooked meal.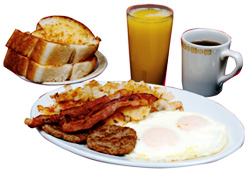 Featuring freshly ground coffee, the Old Hamlin has been voted "Best Breakfast in Town." Charter fishing captains regularly frequent the Old Hamlin in the early morning hours for a breakfast that keeps them satisfied for hours. It's a secret that Ludington residents are glad to share–that this is one restaurant that consistently cooks great meals everyone can enjoy. Put hunger on hold and come in to Ludington's historic, family-owned Old Hamlin Restaurant.
We are often looking for good, kind people to join our team at the Old Hamlin. If you have a good attitude and enjoy serving customers great food, we would like to hear from you. Thank you in advance for your interest.
If you are a resident of Mason, Oceana, Manistee or Lake County, Become an Old Hamlin Yokel Local and receive discounts toward food purchases. Next time you stop in ask your waitress for more information.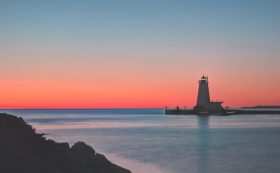 Photo by Dan Becker on Unsplash
Old Hamlin was originally located on Hamlin Lake, however, our present downtown Ludington location is just blocks from the North Breakwater Lighthouse and breakwall at Stearns Park beach on Lake Michigan, which is a great place to watch the Lake Michigan Carferry. Also within walking distance are two marinas and Waterfront Park, complete with playground, bronzed sculptures, and scenic walkways. Right in downtown Ludington, you can enjoy the colorful murals that grace the outside of many historic buildings.
While in Ludington, be sure to visit the many community attractions such as the Big Sable Point Lighthouse at the Ludington State Park, local golf courses, including disc and mini golf, Hamlin Lake, Historic White Pine Village and the S.S. Badger carferry. For more information on the Ludington area, go to VisitLudington.com.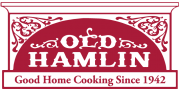 Summer Hours :
Open Sunday - Thursday 7am-7pm
Friday - Saturday 7am-8pm.
122 W. Ludington Ave. Ludington, MI 49431